Adapting to Life after "The Day"
William Forstchen continues his story about the people of Black Mountain after an EMP strike in One Year After. Readers learn that over 80% of Americans have died in the year following the EMP strike. Over half of the population of Japan, Eastern Europe, western Russia, and the Ukraine have also perished. The survivors find that much of America has devolved into chaos as tribal factions vie for power over the remaining states. China has deployed troops under the guise of "maintaining stability." The US government, in an effort to restore order, issued draft notices to hundreds of military aged men and women in Black Mountain. We rejoin the story's lead character, John Matherson, as he addresses the townspeople.
Following the bitter battle Black Mountain's militia fought against The Posse, Black Mountain residents believed themselves to have seen and experienced enough suffering. Matherson and his wife, Makala, were nominated to meet with Dale Fredericks, the new federal administrator in Asheville, in an effort to get Black Mountain's residents an exception to the draft. Matherson assessed Fredericks to be a government bureaucrat intent on controlling Black Mountain. He therefore grew skeptical of Fredericks' claims to have the people of Black Mountain at heart.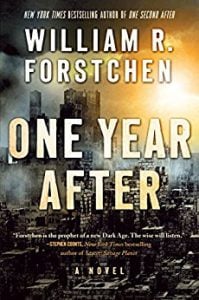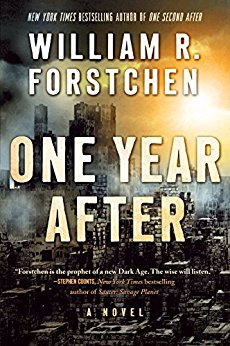 Rebuilding
Life in Black Mountain began to strongly resemble that of the 19th century. Ether is again used for surgery and teeth removal, canning and hunting is taught at the college, and the townspeople use their collective brainpower to build a hydroelectric generating system. Electricity, which had been taken for granted before The Day, would need to be restored in order to both boost morale and return some sense of normalcy to the people of Black Mountain. Forstchen beautifully illustrates a world that has been stripped of its former luxuries and the response such a reality elicits from survivors.
Making Friends and Enemies
Forstchen shows how difficult it is to develop trust among people in the absence of our institutions. Matherson's distrust of Fredericks ultimately proves to be well-founded. The people of Black Mountain learn of Fredericks' mismanagement of the military he has a hand in controlling and they grow resistant to the prospect of fighting for leaders they don't believe in. That said, the survivalists living on the outskirts of Black Mountain form a partnership with Matherson. The shared sense of resistance to irresponsible government dictates creates a bond more powerful than any lingering animosities.
Fredericks, sensing a threat to his power, sends a message to the survivalists that he has the resources necessary to assert his legitimacy. Forstchen depicts the carnage, strategy, and human elements of battle in his description of the conflict that erupts between the two warring sides. The recurring themes of integrity and morality are threaded through the pages of One Year After, which make the narrative as instructional as it is engaging. I strongly recommend Forstchen's sequel to One Second After, especially as we see our own nation losing its own moral compass.
If you want to talk further about the One Year After book review, please leave a comment below or contact me directly. Liked the One Year After book review? Please also read my review of One Second After. If you want to see more Forstchen books, you can head to the Bunker Basics Store.
Like Bunker Basics? Share it with your friends!