The Coronavirus May Cause the Next Depression
The global economy is suffering significantly from the coronavirus outbreak. Businesses have closed their doors either temporarily or permanently. Governments are putting together stimulus packages and central banks are providing liquidity to the financial system. While you may remember seeing similar market effects and response measures taken during the 2008 financial crisis, the pace at which markets have tumbled during this pandemic is unprecedented. Moreover, the worst is yet to come. Coronavirus cases are still rising rapidly throughout the US and Europe. Healthcare systems are beginning to buckle. Unemployment is starting to rise. Without a vaccine, we will never move passed this. As the state of affairs continues to deteriorate, we need to learn how to prepare for the next depression. Below, I've detailed 3 actions we can take to insulate ourselves from the economic effects of the coronavirus crisis.
1. Diversify Your Income Streams
With so much uncertainty around when life will return to some semblance of normalcy, employers and employees alike are in incredibly vulnerable positions. Brick and mortar businesses have been suffering as foot traffic has ground to a halt. Companies are pulling their guidance, since they can't forecast just how bad things will get. The government is stepping in, but it can only do so much to help. One of the best ways how to prepare for the next depression is to help ourselves by diversifying our income streams. This may sound easier said than done, but there are some good opportunities we can capitalize on. Below, I've listed three side hustles that are in high demand right now.
Opportunity 1: Delivery
Restaurants across the country are closing up shop, as states begin to issue shelter in place orders. However, restaurants are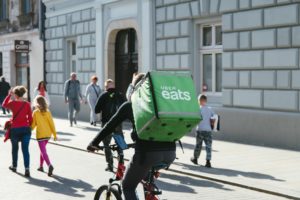 still allowed to deliver food to customers. The increased demand for food delivery provides an opportunity for a side hustle. Food delivery apps like Uber Eats, DoorDash, and Postmates are helping to keep restaurants afloat. They're also offering a much needed service to those in areas under quarantine. Working for a delivery service is a great way to diversify your income stream at a time when it's important to do so.
Opportunity 2: Remote Learning
Many schools are shutdown, forcing teachers to grapple with how to educate students remotely. Students, though, aren't the only ones who need to be continuing their education. This is especially the case as the coronavirus crisis deepens. When job losses begin to take their toll, people will need to learn skill sets that are in high demand. Learning those skills even before they are needed is a prudent way to pass the time under quarantine. This offers those with much needed skill sets an opportunity to earn some extra money. You can monetize these skills by posting educational videos to YouTube, sharing your knowledge on a Podcast, or through a part time teaching service. We should always prioritize the continuation of our education. By educating others remotely, we can contribute to society at a much needed time while helping ourselves in the process.
Opportunity 3: Monetize a Hobby
Hobbies can be a great way to blow off steam. They can also be a good way to earn some extra money. Woodworking, arts & crafts, car restoration, and gardening are just some examples of hobbies that can be monetized. My friend built a dining room table from scratch that looked better than anything out there on the market. It's beautiful. So beautiful, in fact, that I wanted one too. I offered to pay him to make me one, which he agreed to do. Woodworking has always been a hobby of his. It's now literally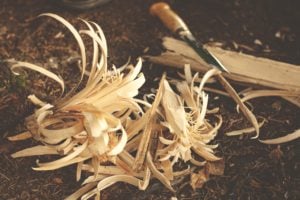 paying off. With websites like Etsy and MegaHobby.com, you can find people willing to pay you to do something you love. These are great platforms that can help you ship the product of your labor to those who can enjoy it. You don't need to leave the house to make diversify your income stream. So, if you want to know how to prepare for the next depression, start finding ways to get paid to do what you already love.
2. Tighten Your Purse Strings
In defense of the quarantine measures, we've heard politicians repeatedly state that we need to make sacrifices for the benefit of the greater good. I agree that the sacrifice they're asking us to make is necessary, but this sacrifice is just the tip of the iceberg. We need to tighten our purse strings as well. The bull market has run its course, so it's time to modify our spending behaviors. We should always be living below our means. If our means are increasingly uncertain, then we should be extremely cautious. First, we should avoid taking on any additional debt. The last thing we need during tough market conditions is another financial obligation. Let's also buy generic brands, buy used goods, wear clothes a bit longer before buying new ones, and use duct tape to fix something we broke instead of purchasing a replacement. While this advice may seem obvious, small behavioral modifications can translate into big savings in the long run. We should start changing our behaviors now.
3. Save While You Can
As we enter the second quarter of 2020, everyone will feel tougher financial pressures. Those who had money invested in the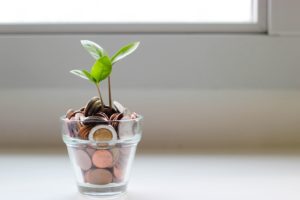 stock market have already suffered massive losses, but that was just the beginning. Companies are going to tighten their proverbial belt loops. Were you shooting for a raise this year? Do you typically count on your Christmas bonus? You should be happy to keep your job. This is why it's important to save while you can. Company management doesn't necessarily enjoy laying off their employees, but they'll do it when they have to. If you're in the unfortunate enough to receive a pink slip, they you'll want to have savings to help you get through a rough financial patch. I suggest start saving now. If you already have savings fund, add to it aggressively. Take the advice above to heart and start tightening your own purse strings, so you can save while you can.
Contrarian Idea: Take a Risk
I'm not normally one to suggest taking big risks. That said, I can't deny the fact that many of the most iconic and successful companies were started during market downturns. Apple, Microsoft, and General Electric were all created during tough economic times. While others are too skittish to take risks, you may view a downturn as an opportunity to make investments. Asset prices are depressed and markets are volatile. Depending on your risk tolerance, this may be a perfect time to roll the dice. The bigger the risk, the bigger the reward. Just know that the odds of success are against you.
How to Prepare for the Next Depression: Act Now
There is no set formula on how to prepare for the next depression. We don't know how bad it will be and we don't know the extent to which we'll be affected. We can, however, take action to reduce our risk of financial hardship. Find ways to diversify your income streams, spend frugally, and start saving your money. We cannot control the economy, but we can control how prepared we are to weather a downturn. Those making tough, pragmatic decisions today will set themselves up for success in the future. I hope you're one of them.
Do you have suggestions about how to prepare for the next depression? Leave a comment below or contact me directly.
Like Bunker Basics? Share it with your friends!