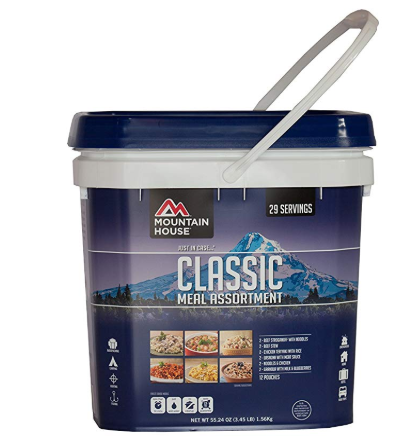 Survival Food
The Mountain House Classic Bucket of emergency survival food is a quick prep! Just add water to the pouch and eat in less than 10 minutes, with no extra cleanup!
The survival food contains 12 total pouches, two each Beef Stroganoff with Noodles, Chicken Teriyaki with Rice, Beef Stew, Lasagna with Meat Sauce, Noodles & Chicken, and Granola with Milk & Blueberries. Bucket contains 29 total servings.
Allergens: Soy, Milk, Wheat, Egg, Coconut.
30-Year Taste Guarantee. Packaging May Vary.
Use for emergency food storage, survival food, camping trips, backcountry hiking, RV expeditions and more!
Buy Now

from Amazon