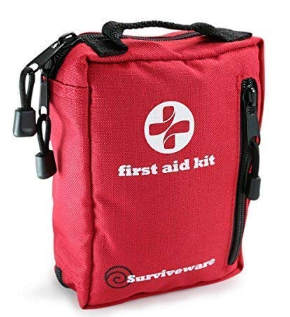 First Aid Kit
Made from 600D Polyester. This first aid kit comes in the strongest bag in its price class. The large stainless steel scissors can cut through clothing or seat belts. Forget about flimsy plastic containers that break while under pressure.
This first-aid kit comes with 100 essential life-saving items. It weighs only 1 pound and measures 5.5 x 7.5 x 3.5 inches to fit into your car's glove box. The MOLLE compatible straps on the back allow the user to wear it on other bags or your belt. Carry it in your backpack, truck, RV, motorcycle or in backcountry.
The bag is water-resistant. All inner items are protected from water in durable zip-top laminate baggies. This means your supplies are safe and secure around any marine or boat environment.
Each inner sleeve is labeled according to its function. During stressful situations, all items can found and used. Afterwards all supplies can be replaced in an orderly fashion. You also have a separate zip pouch for your own prescription medication.
This kit is FDA approved and has passed the rigorous testing that ensure all items in the kit are safe for you and your family. Make sure buy from a reputable company with a proven track record of excellence.
Buy Now

from Amazon