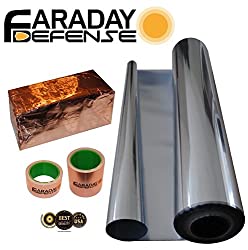 EMP Jammer
DIY Faraday Cage Kit
includes necessary materials to build a faraday cage using a small size box of your choice: 5"x5"x12" or the equivalent size in surface area. Serves as an EMP Jammer! Faraday Defense products are manufactured using the thickest and most heavy-duty materials offering the highest protection in the marketplace today. An established company serving the law enforcement, innovative manufacturing, electronics distribution, electronics wholesale and consumer markets, Faraday Defense is the choice for companies who want products utilizing premium materials and offering innovative solutions.
Fully-specced for Electro-shielding, Moisture Barrier, non-transparent/translucent, solid metal, 5-layer ESD! Will act as an EMP Jammer!
A stronger polyester layer (Heavy Gauge) helps prevent sharp objects from puncturing and destroying the effectiveness of the bag.
Military grade MIL-SPEC material provides protection, uniformity between seams and moisture barrier
Copper EMI tape provides maximum protection PRODUCT SPECS: 30 lb puncture resistance (MIL-STD-3010C Method 2065) - >60db EMI Attennuation (Max protection tested with 1 to 10 GHZ testing) - ESD Shielding <10 nJ (ANSI/ESD STM11.31) - 7 mil Thickness (MIL-STD-3010C Method 1003) - Moisture Barrier (MIL-STD-3010C Method 3030) Heat Sealing Conditions: - Temperature (400 degrees F, 204 degrees C) - Time (.6 to 4.5 seconds) - Pressure (30 - 70 PSI, 206-482 KPa); 6550 PSI tensile strength, 30lb puncture resistance, and >60db EMI attenuation, offer maximum protection for your items. Tested to meet or exceed certain electrical and physical requirements of ANSI/ESD S541, and to be ANSI/ESD S20.20 compliant. ROHS compliant and lead-free.
Read more about how to protect yourself from an EMP on
Bunker Basics
.
Buy Now

from Amazon