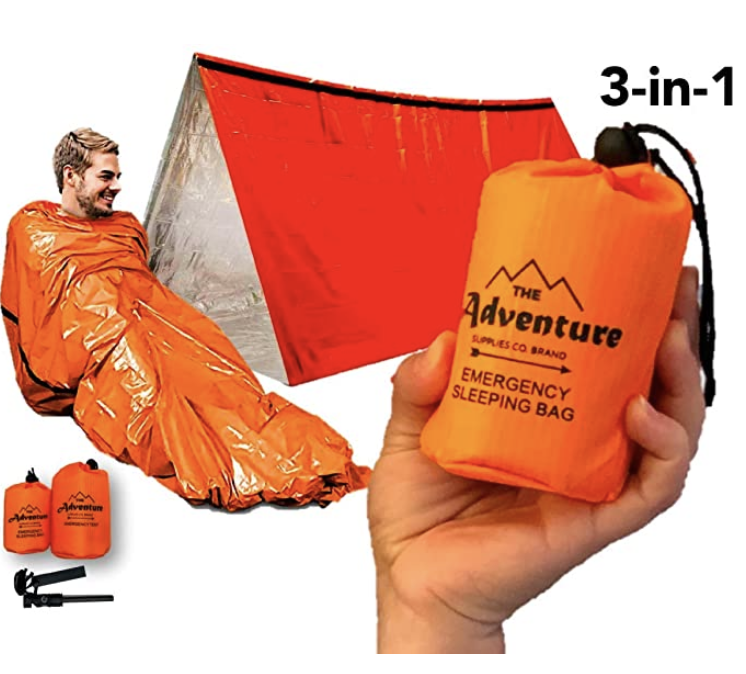 Bug Out Bag Shelter
BE PREPARED FOR THE UNEXPECTED: This emergency combo kit provides an emergency bug out bag shelter to shield you from the elements and an emergency sleeping bag to help keep you warm by trapping in your body heat. Designed for emergencies and survival, these include a survival whistle and a BONUS FIRE STARTER. The vibrant orange color can aid in search and rescue. Perfect for hiking, camping, horseback riding, survival gear, car survival kit, and emergency shelter in place.

PARACORD DRAWSTRING, FIRE STARTER, SURVIVAL WHISTLE AND COMPASS: The 120-decibel whistle can be heard through wind and trees and can alert search and rescue up to a mile away. The nylon paracord drawstring and carabiner clips can be used to secure or repair gear, build an additional shelter, or start a fire. In a survival emergency situation, tools and skills are the difference between life and death. You can never be too prepared.

EXTRA DURABLE MATERIAL! The bug out bag shelter is constructed using a mylar type material with a tear and puncture resistant coating. They are durable enough for repeated use, so they can be folded up and put back in the waterproof nylon stuff sack. These can be conveniently clipped onto gear for transport and are compact enough to be put in a car glove box. These are helpful in a car accident or unexpected breakdown.

NEVER AGAIN CHOOSE BETWEEN SHELTER OR HEAT: With this combo set, you will never have to choose between using the emergency tent as a tent or blanket. This set provides you with both. If the tent is not needed, it can be used as another emergency blanket. The reflective material will help rescuers that are searching by land and air. This kit will protect you against RAIN, WIND, and snow as well as provide shade against the sun. This is a life saving combination for a single person or group.

PERFECT ULTRA LIGHTWEIGHT GIFT TO GIVE FOR CHRISTMAS: Both the sleeping bag and the tent come in their own durable waterproof stuff sack so you can store it anywhere. They also come with a convenient carabiner clip to clip on to any bag. Throw these in the glove compartment in case a winter storm finds you trapped in your car for the night. You can also keep them in your emergency shelter at home! We want you to expect the best and prepare for the worst.
Buy Now

from Amazon